Dallas Zoo
The Dallas Zoo is a great place to visit if you love animals. When you first walk into the zoo, you will be greeted by a 67 foot tall giraffe statue, which is the tallest statue in the state of Texas. The zoo encompasses 95 acres of traditional and exotic zoo animals. It is the longest established zoo in the Southwest, and was founded in the year 1888.
Animals
When you visit the Dallas Zoo, be prepared to see many different types of animals. The Wilds of Africa area houses chimpanzees, gorillas, and also includes an aviary on a nature trail featuring six natural habitats. These habitats feature mountain, forest, river, desert, woodland, and brush. You can also take a monorail ride through the area for an additional fee. The Zoo North attraction displays the bird and reptile building, the children's zoo where the children can pet the animals, the cheetah exhibit, giraffes, elephants, and other traditional animals.
Areas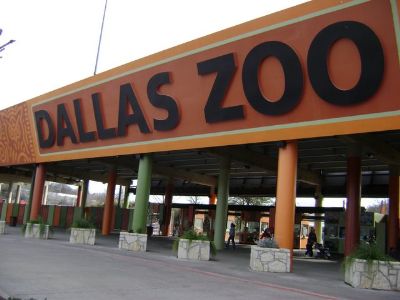 The Dallas Zoo has four main areas, including the Entry Plaza, Wilds of Africa, Children's Zoo, and Zoo North. In the Entry Plaza, there is an information area where you can ask for help, an area to purchase tokens for the rides, an elephant fountain, and you can ride the carousel in the middle of the area, which is called the Endangered Species Carousel.
The first animals you will see are the Lemurs, which are displayed close to the carousel. You can also find the souvenir shop in this area, as well as the Zoofari Market.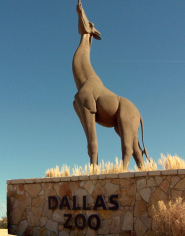 The next area in the Dallas Zoo is the Wilds of Africa. This area has five different terrains. You can see many different types of animals in this area that are home to Africa, such as the crocodile, penguin, and gorilla.
The next area is Zoo North and houses a large range of animals. This area shows animals from several different continents, such as the Australian Outback area. You will see tortoises, flamingos, rhinos and cheetahs. You can also find birds and reptiles in t his area. The main food court is located here where you can purchase burgers, french fries, salads, and hot dogs.
The Children's Zoo is the final area of the Dallas Zoo. This is an interactive zoo where your child can learn about taking care of animals. You will find a farm, pony rides, and a petting zoo here. Your children can also visit the Discovery House to play some games, and do some arts and crafts.
The Dallas Zoo is a great place for the entire family to visit, and you can spend an entire day here looking at the many different animals and other exhibits.